Applications and admissions
Important information – please read carefully!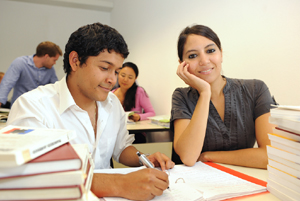 Applications for this programme follow a three-stage process:
Start of the application period for the AGY 2023/2024: March 2023
You may submit a paper-based application or apply by e-mail. Please provide an e-mail address that we can use to contact you regarding your application.
You should attach or enclose the following documents:
A cover letter (letter of motivation) in German or English, 1 page

Curriculum vitae

in German or English
A photocopy or scan of your secondary school leaving certificate

Examples of leaving certificates are A Levels,

Apolytirio

,

Baccalauréat

,

Gaokao

, High School Diploma,

Lise Diploması

, Matura,

Maturita

, Scottish Highers,

Te'udat bagrut

,

Título de Bachillerato + Pruebas de Aptitud

. (This list is not exhaustive).
Please also include certificates for all academic achievements gained after secondary school, such as university transcripts and certificates.
Applicants from China are additionally required to send us a copy or scan of the APS certificate which they received from the

Akademische Prüfstelle

(

德国驻华使馆文化处留德人员审核部

) at the German Embassy in Beijing.

The completed and signed application form for the Academic German Year (German version / English version).
If you wish to apply by e-mail, please ensure that you attach all of the above document scans in a single pdf file. The filename should be: Family name_Given name_AGY23
Please understand that we only have a limited number of places. After a selection procedure the available places will be asigned. If you are selected, you will receive a confirmation via email from us. We cannot consider incomplete applications.
Please send your full application either by post to:
University of Passau
Language Centre
German Courses Passau
Innstr. 40
94030 Passau
Germany
or by e-mail to info-gcp@uni-passau.de
If we have offered you a place on the AGY programme and fulfill the University entrance requirements, you will receive a registration form. Please fill this in and send it back for a binding registration. You are only fully registered for the programme – and have a right to the place offered – after:
GCP has received the completed and signed registration form.
we are in receipt of certified copies, and where necessary, certified translations of the following documents have been received by post:

your secondary school leaving certificate (see stage 1 above for examples)
certificates for all academic achievements gained after secondary school

applicants from China should also include the original APS certificate which they received from the APS in Beijing


payment by bank transfer of €490 has been effected to the University's bank account. GCP will provide the bank account details once your registration has been received.
Documents that are written in a language not offered by the Language Centre should be accompanied by a certified German translation (please see bottom of page for an explanation of what constitutes a certified copy and a certified translation). In general, you do not need to provide translations for certificates issued in the following languages: Chinese, Czech, English, French, Indonesian, Italian, Spanish, Portuguese, Russian, Polish, Thai or Vietnamese.
However, we may still request a certified translation after issuing a conditional offer for a place on the programme under certain circumstances.
Available places will be allocated in the order in which the registrations and payments are received. We therefore recommend that you make payment as early as possible, as places on the programme are strictly limited.
Cancellations
We reserve the right to retain your advance payment to cover our costs if you decide to cancel your reservation after 1 August. If you are unable to participate in the programme for reasons beyond your control (e.g. if you are denied a visa by the German immigration authorities), we will refund your payment less the bank charges for the bank transfer.
We will stop taking applications and registrations as soon as all places on the programme have been filled and notify all those who have been offered a place on the programme. Otherwise the closing date for registrations is 30 July: your payment and the completed registration form must reach us on or before that date. Applications and payments received after the e-mail notification or after the closing date will not be considered. Any payments received after that date will be refunded less the bank charges incurred.
Upon receipt of payment you will receive a letter confirming your participation in the course. Those who need a visa to come to Germany should submit this letter for the visa application process.
You should the pay the remaining course fee of €3,500.00 by the start of the programme.
If you indicated on the registration form that you require help with your accommodation search, the International Office will help you to find a room in the halls of residence.

If you are a foreign citizen, you should be aware of the relevant laws and regulations that affect your stay in Germany. Please see the International Office website for further details.

Once you have completed registration, we will provide further information on your stay in Passau as well as on the programme itself.
Successful participation in our language courses does not automatically enable you to enrol in a degree programme at the University of Passau! It is important that you read up on the academic and language requirements for joining your desired degree programme beforehand. Please also note the detailed information on how to apply and which documents to enclose at www.uni-passau.de/en/apply.
Is your entrance qualification recognised?
The Anabin website (only available in German) provides details on whether your qualifications are recognised as equivalent to a German university entrance qualification. If your qualifications are equivalent, you may apply directly to a place at the University of Passau or other German higher education institution. If you have any questions concerning university entrance qualifications or the degree programme offered by the University of Passau, please contact the Academic Advice Service.
If your qualifications do not equate to a German university entrance qualification, you may have to complete a one-year bridge course at a Studienkolleg (further education college for international applicants) and successfully complete their final examination (called 'Feststellungsprüfung') before you can apply for a place on a degree programme. The Studienkolleg is generally free of charge. However, please note that you will not be able to complete this course in Passau, as the relevant Studienkolleg is located in Munich.
Certified copies (this may also be referred to as 'authenticated' copies):
To produce a certified copy, an authorised official compares the photocopy with the original document, and, if there is no discrepancy, affixes a seal to the photocopy and signs it, certifying that the photocopy and the original are identical in content. A fee is usually charged for certification.
A properly certified copy will:
bear an original stamp/seal (round or oval in shape)
include the certifying official's signature
have part of the authority's stamp on every single sheet in a stapled set of pages
Certified/authenticated copies may be issued by a variety of institutions in your home country or Germany. These include public authorities with an official seal such as:
local government and clerical offices in Germany
courts and notaries in accordance with national law
German diplomatic missions (embassies, consulates) abroad
your home country's diplomatic missions abroad
Please note that a photocopy of a certified photocopy is not itself a certified copy; it is merely a copy and does not constitute an official document. German public officials are permitted but not obligated to authenticate foreign-language documents.
Certified translations:
If your document is written in a language other than English or German or another language listed above, you will additionally have to have it translated by a sworn translator. Sworn translators are authorised to issue translations such that the translation itself becomes a legally valid document in Germany. NB: If you intend to re-use the translated document, you should have certified copies (see above) made of the certified translation and keep the original certified translation.
Please keep in mind when commissioning a translation that not all professional translators are sworn translators, so you will have to make sure you ask them about this service before commissioning the translation.
Most German embassies and consulates general maintain lists of sworn translators recognised by both uni-assist and the University of Passau and may publish them on their websites. Please ask the embassy or consulate in your country or, if you are in Germany, your municipal administration office for a list of sworn translators.
Alternatively, you may be able to find a sworn translator for your language on the following website: http://www.justiz-dolmetscher.de/suche.jsp.
Click on 'Englische Seite' on the left-hand navigation menu, then in the drop-down menu for 'State:' choose 'Bayern', enter your language (i.e. the language in which your documents are written) and tick the boxes next to 'Translator' and 'Official authorization, appointment and administration of oath completed !'. Then click on 'Search' to get a list of sworn translators for your language, complete with their contact details. You should then get in touch with one of these translators directly concerning the translation of your documents.